Let your app find its way
Valhalla is a navigation tool for the world. Add routing to your app and let your users go anywhere on the planet, whether by foot, bike, car, bus, train, or ferry.
Valhalla makes it easy to let navigation find its way into your apps, based on open, improvable road network data from OpenStreetMap and public transit feeds from Transitland. Whether your users need multiple locations, points along a route, custom routing options, or multimodal routing, our API is ready to help.
Features
Flexible routes and options
Valhalla allows you to customize routes on the fly by embedding road characteristics and connectivity information into its tiled dataset. Your applications can use a wide variety of travel modes, with dynamic costing options.
Bicycle type and cycling speed can be changed, along with user preferences for paved roads, dirt paths and hills. Multimodal routes also have a rich set of options, including setting preferences for bus, rail, transfers, and walking distance. More information on route types and options is available within the API documentation.
Narrative guidance
Valhalla returns meaningful guidance and narrative directions to assist users during their trip. No more repeated instruction to "continue on [slight variant of road name]" — the narrative is succinct, easy to read, and useful. If your app is capable of voice guidance, audio-friendly prompts are provided in the results. All these thoughtful features lead to a happier and shorter trip. Learn more.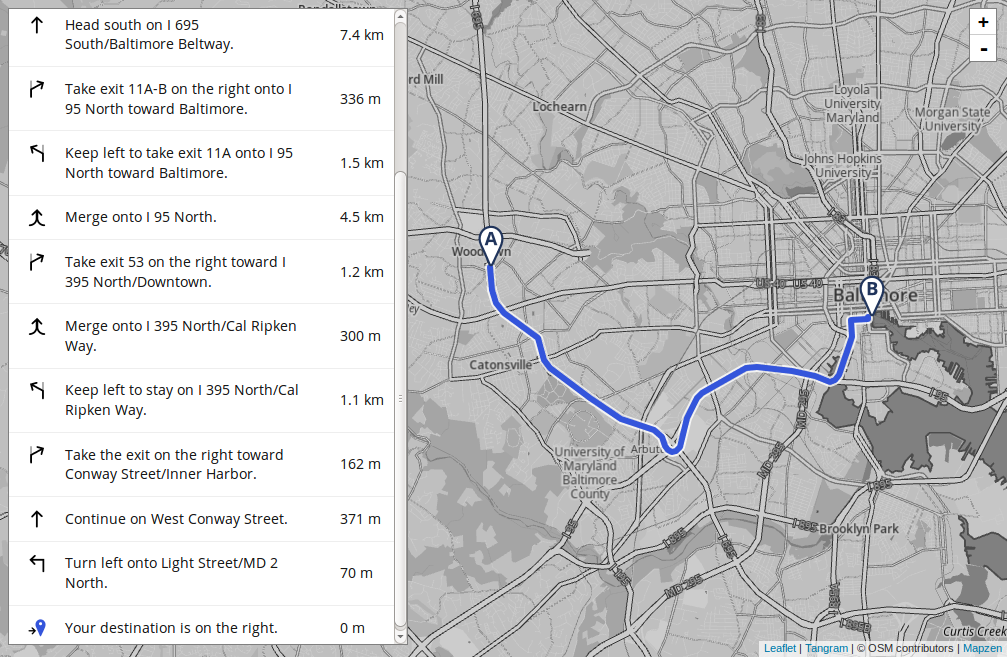 Timely data updates
Valhalla handles the complexity of updates from OpenStreetMap so you don't have to. It's easy to add new Transitland data. Our team works with the wider open source data community to develop tools and methods aimed at improving data quality for routing and guidance.
Companion mobility services
Map Matching
Map Matching takes noisy GPS traces, snaps it to a road, and adds useful metadata for helping your data make sense for routing and analysis. Learn more
Isochrone
Isochrones provides insight into travel, whether by car, foot, bike, or public transit. Learn more
Optimized Route
Reduce the burden on your traveling salespeople! Calculate the most efficient way to visit multiple destinations. Learn more
Time-distance Matrix
Calculate travel times and distances between a lot of places with just one API call. Learn more
Transitland data
Get the freshest transit data to power your routing through the Transitland Feed Registry. Learn more
Get Started
Valhalla is a well-documented open source project. You can:
Mobility Explorer
Mobility Explorer makes it easy to see relationships between transit datasets, analyze travel options, and match your GPS data to route lines. Explore transit access, test out your GPS files, and analyze your commute.
Documentation
The Valhalla documentation has step-by-step walkthroughs and technical reference to use the service.