Steamboats plying rivers, horses and buggies trundling down dirt roads, cars speeding along blacktop highways. Transportation is often told as a story of increasing speed and range, each leap forward enabled by a breakthrough in vehicle propulsion or civil engineering. The way we get around continues to evolve. Our commutes to work and school, the way we meet up with family and friends, and how we shop are now shaped by a variety of transportation technologies—car-sharing, ride-sharing, bike-sharing, public-transit, car-ownership, or same-day delivery are only some of the options in many large metro areas. This is the new nature of progress: multiple modes of transportation, some owned privately and others operated publicly, some offered as a service and others sold as a package, all available to be stitched together to best fit the unique needs of each individual. To hasten this twenty-first century form of access, we're creating Mapzen Mobility, a new line of products that enable multimodal transportation through a "virtuous cycle" of open data consumption and contribution.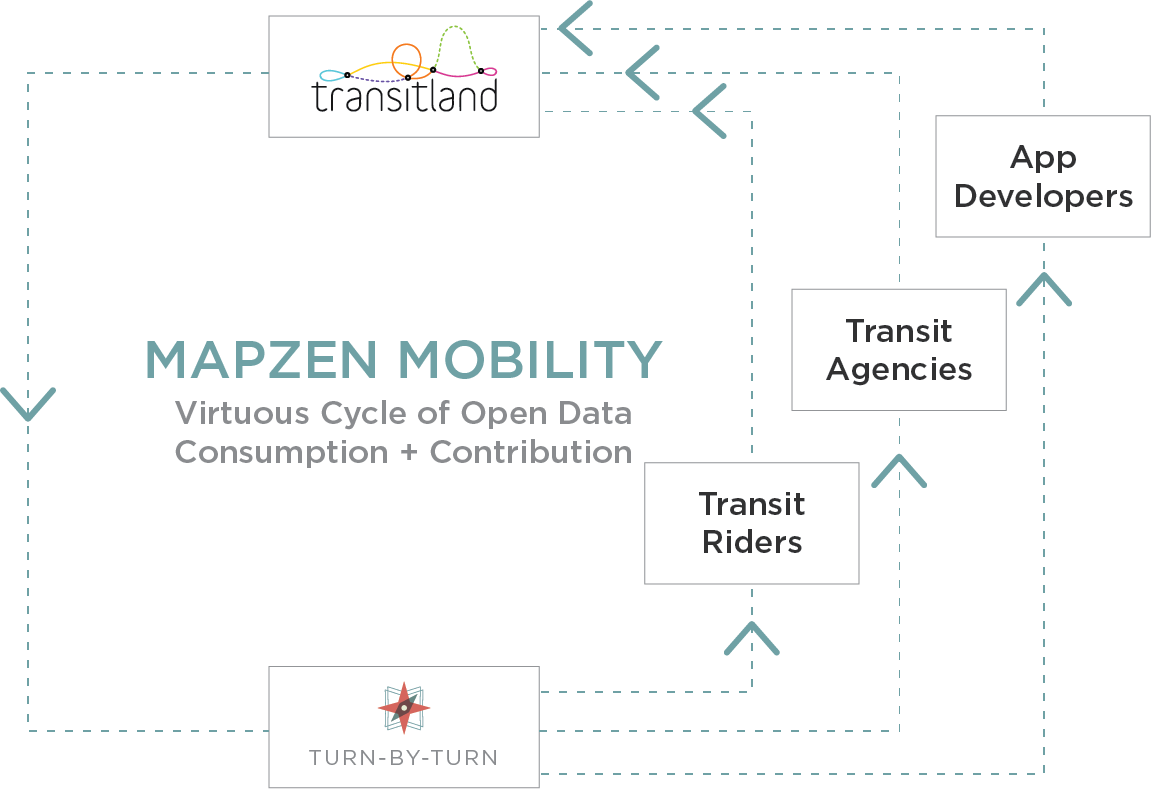 An open-source toolkit for multimodal transportation
Under this umbrella of Mapzen Mobility, we're offering a toolkit of services, powered exclusively by open-source software and open data:
Turn-by-Turn
Mapzen Turn-by-Turn guides you from A to B by car, bike, foot, and—as of today—multimodal combinations involving walking and riding public transit. Today's release makes Valhalla, the open-source project that powers Mapzen Turn-by-Turn, the first open-source routing engine able to serve transit directions across multiple metropolitan regions.
Apps can now use Mapzen Turn-by-Turn to plan multimodal journeys, create narratives to guide users by text and by voice, and update those journeys on the fly from mobile devices. Mapzen Turn-by-Turn draws data from OpenStreetMap and from Transitland, the open transit data aggregation project that Mapzen sponsors. Apps can also query Transitland's API to build maps and analyses that enrich that journey and provide context around Points A and B, as well as the many multimodal transportation options that connect them. Journeys planned by Mapzen Turn-by-Turn and data in Transitland all include Onestop IDs, an open identifier scheme that catalogs transit operators, stops, and routes from around the world.
Read more about how Mapzen Turn-by-Turn multimodal routing works. Try a demo of multimodal routing in San Francisco. And when you're ready to try the underlying API with coverage for the San Francisco Bay Area, New York City, and Rome sign up for a Turn-by-Turn developer key. Please stay turned for updates as we expand Turn-by-Turn's transit coverage around the world and its multimodal combinations even further.
Transitland
Transitland is a community project sponsored by Mapzen to aggregate and improve transit data from urban and rural areas around the world. Earlier this year, Transitland opened to contributions of transit data feeds, and has steadily grown to cover public-transit networks from a gondola in Portland, Oregon, to buses and subways in Rome, to the informal network of matatus in Nairobi, Kenya. It's this collection of stop, route, and schedule data that powers Mapzen Turn-by-Turn. But it's also available to other consumers and contributors. We welcome everyone to use Transitland data to power their own routing engines.
Do you also work with transit data? Let's collaborate on collecting and improving transit data in the open. That should be shared infrastructure. We can compete on the services, like routing engines and apps, that each of our organizations build on top of that common set of data.
To see Transitland's expanding coverage browse the Feed Registry and follow Transitland's news and updates.
Mapzen Matrix
Trying to run more than one errand in the day, or trying to start your own delivery service? Mapzen Matrix can compute the times and distances between up to 50 different origins and destinations at once. Like Mapzen Turn-by-Turn, it's powered by OpenStreetMap and works anywhere around the world. Try a demo of Mapzen Matrix in New York City and sign up for a developer API key to use Mapzen Matrix around the world.
Mapzen Elevation
Want to avoid hills while running those errands, or looking to optimize your cycling workouts? Mapzen Elevation can be paired with Mapzen Turn-by-Turn to plan your journeys with elevation gain in mind. Try a demo of Elevation in the Alps and sign up for a developer API key to use Mapzen Elevation around the world.
The new rules of the (multimodal, open) road
From these four initial services in the Mapzen Mobility toolkit, our "rules of the road" are clear:
All modes of transportation are created equal. We're not a car company. We think walking, cycling, and car-sharing are just as important as private car ownership and operation. Mapzen Mobility supports all modes of transportation, and in the future, our services will support any possible combination of modes on a journey.

Open data stitches together public and private transportation networks. Fixed-route buses and subways are usually operated by public agencies (at least here in the U.S.), while ride-sharing networks are owned by private companies and operated by a mix of private contractors. A trip that involves many modes will likely traverse both publicly operated and privately owned transportation systems. Mapzen Mobility uses only open data, since it's the common denominator between public and private organizations. Rather than hoarding or selling raw data, Mapzen believes that true value comes from services, applications, and experiences built on top of mapping, scheduling, usage, and ticketing data.

People first. In technical terms, what makes twenty-first century mobility novel is that it combines transportation technology with information and communication technology. Many of these new on-demand services are possible only because of smartphones and wireless data networks. Thinking more broadly, these advances in multimodal transportation are refocusing attention from infrastructure and software to the lives and needs of people. Where do you want to go? Where do you need to go? How can you and your neighbors access places of work, learning, and health? Mapzen Mobility is here to support the freedom of movement, with everyday people in mind.
Join us for the ride
Now that you've heard our vision for multimodal mobility powered exclusively by open data, try Mapzen Turn-by-Turn. As of today, it's the world's first open-source, global, multimodal routing engine. We'll be adding coverage and functionality to Turn-by-Turn service (and the Valhalla open-source project) over the next few months. Also, watch for more additions to the Mapzen Mobility product line.
We welcome your comments, questions, and ideas about Mapzen Mobility at hello@mapzen.com or @mapzen. Together we're going places.