Did you know that behind the scenes, we've been working on a code editor for Tangram scenes? We call it Tangram Play. It's a browser-based, real-time editing tool for Tangram scene files. (If you've been following along with our Make Your Own series, you might have seen us link to it.)
As with all of our projects, we do all of our work in the open, so it's no surprise that members of our community have noticed it. Early adopters have already started using it — check out Hacker Experience 2, an indie game that uses Tangram Play to create its basemaps. Some recent work with journalists was made with the help of Tangram Play (including this nice shoutout from The Guardian!)
It's now time to bring this tool out from the early-adopter and internal-use only phase and make it more accessible for an even larger community of map designers and cartographers. So, today, we're proud to announce the public beta launch for Tangram Play!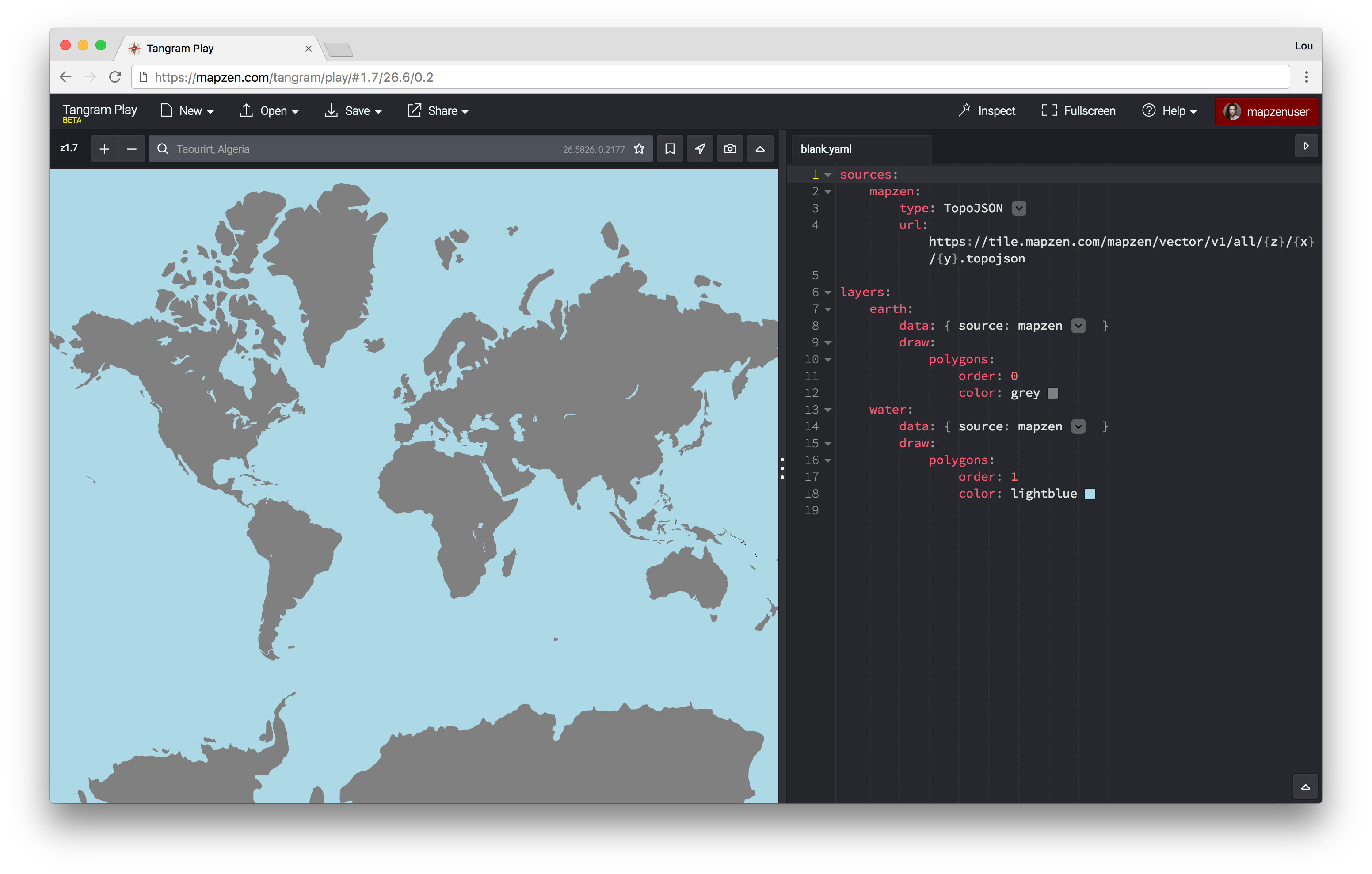 Playing with Play
You can start with a basic scene or open up one of Mapzen's basemaps to see the inner workings of a scene file in Tangram.
Some noteworthy features -
Helpers like color pickers to help select values for different Tangram properties

Easily move around to different locations in the world and bookmark important locations to make sure your designs hold up in different parts of the world and at varying zoom levels. You can also take a screenshot or record animations of the scene.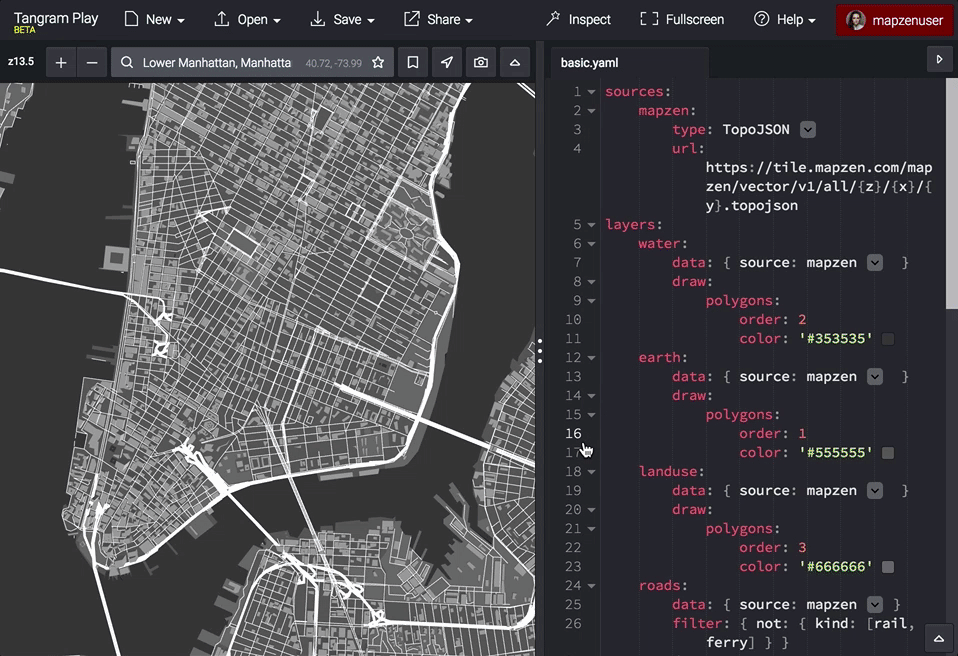 Inspect each pixel on the map to see the original tile source data that generated it, helping you improve you understand and improve your styles.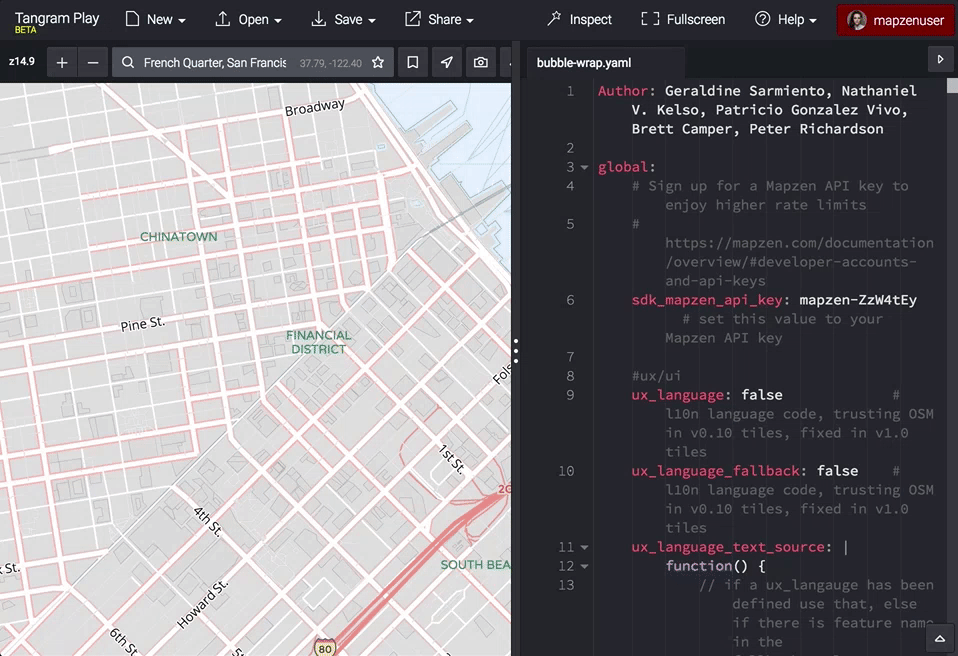 You can learn even more about Tangram Play's interface in our Getting Started document.
New stuff!
But wait, there's more! With this launch we are rolling out a completely new feature: the ability to save your scenes to your Mapzen account! Once you've created a scene file, you can either download it to your own computer, or save it to the cloud. You get a link to share your map with your friends, along with a snippet of Javascript so you can embed the scene file into your own website.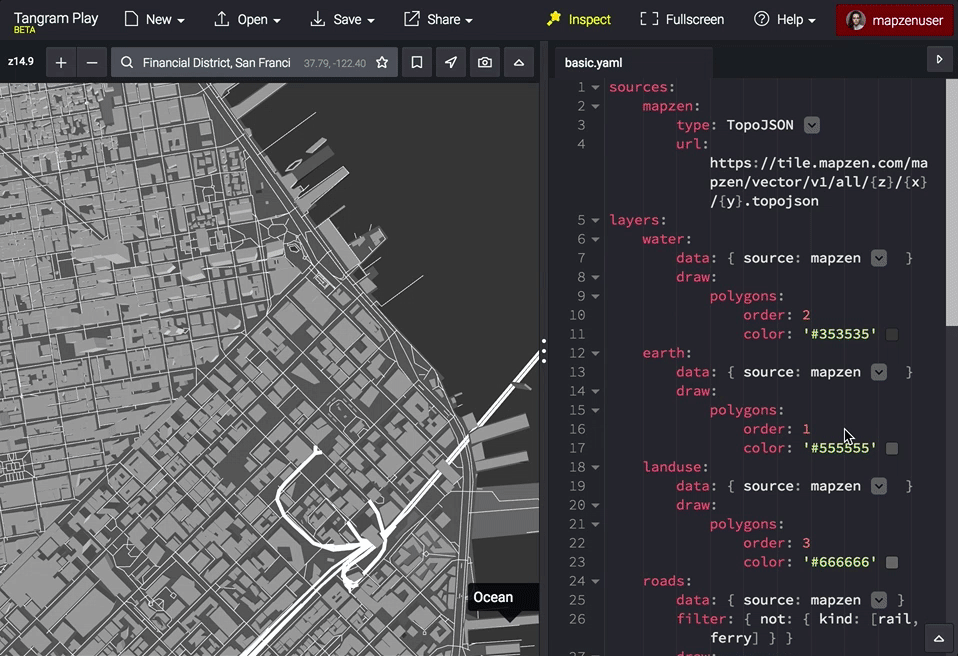 We want to hear from you!
We understand that there are many different kinds of maps, and many different kinds of map makers. While no single tool can meet everyone's needs, our goal is to create a friendly and educational developer environment that is useful for everyone, whether beginner or expert. To get there, we'll be listening to you. So please reach out to us at a tangram@mapzen.com if you have any feedback or questions for us. You can also join us at Gitter, and we also welcome your contributions or issues on Tangram Play's GitHub repository, where all the code is open for you to explore.
Happy playing!