We all know it and we've all been there. The anxiety of not knowing something. That dread, that fear that everyone else knows the answer that you can't quite figure out. We hope that's just the stuff of nightmares induced by watching too much Jeopardy!, but sometimes it can be hard to ask for help…or know where to start.
Mapzen wants to make sure you never have to experience this. We offer many ways to learn more about our products and contact us—from self-service documentation to in-person technical assistance. We provide all these options at no cost to you.
Documentation and blog posts
Your first resource for information about how to use Mapzen's products is the technical documentation. Click the Documentation link at the top of any page on Mapzen's site to get to our help system. Documentation includes a variety of content, including comprehensive developer API reference, tutorials, glossaries, and conceptual overviews. If you want to help other users by making a correction or addition, each page has a button at the bottom (Edit this page on GitHub) that takes you to the source file.
If you're reading this post, you should already know that Mapzen has a blog. In our blog articles, you can commonly find information about product and event announcements, and applications of our tools, but also deep, engineering-related content. You can also sort posts by tags – routing, search, vector tiles, tangram, transitland, openstreetmap, whosonfirst and engineering are just a few topics you can drill into.
We roll up our blog posts and other company news into a (mercifully short) monthly email newsletter. Sign up: https://mapzen.com/newsletter-signup/.
Email support
Mapzen's email address is hello@mapzen.com, which is monitored by engineers, product managers, and developer relations specialists. You can also find this address in the footer of every page on mapzen.com. Check in with us about anything you need, such as our APIs, workflow guidance, and rate limits. We use the questions you ask to improve the technical documentation so the answer is easier to find for the next person who has the same problem.
Please also send us links to your projects and tell us how you are using our tools in them. We want to see what you make with Mapzen!
Social media
We love hearing from you on our social media accounts. Tweet us a hello, whether you have questions about our APIs or showing off your work. Follow @mapzen and you'll be the first to know about cool Mapzen things.
GitHub and Gitter
If you are working with the code for Mapzen's open-source projects, you might be more comfortable communicating with us through GitHub. GitHub is the collaborative version control system we use to manage our code and documentation. Posting an issue lets our engineers and other users know about a bug or software enhancement directly.
Gitter is an instant message chat system for GitHub users. Some of Mapzen's development teams have set up chat rooms associated with our open-source projects so you can communicate with us and the community in real time.
Pelias for geographic search and geocoding
Tangram for the map-drawing engine
Tilezen for vector tiles and map data
In-person support during office hours
If you are in the San Francisco area, Mapzen hosts open office hours every third Wednesday of the month. During office hours, you can get personalized technical assistance and training and meet other users. We provide bagels and light breakfast snacks, and lovely views of the San Francisco Bay from our office windows, plus video conference links to our staff elsewhere. Last month, we had simultaneous video calls between attendees and our engineers in New York and London!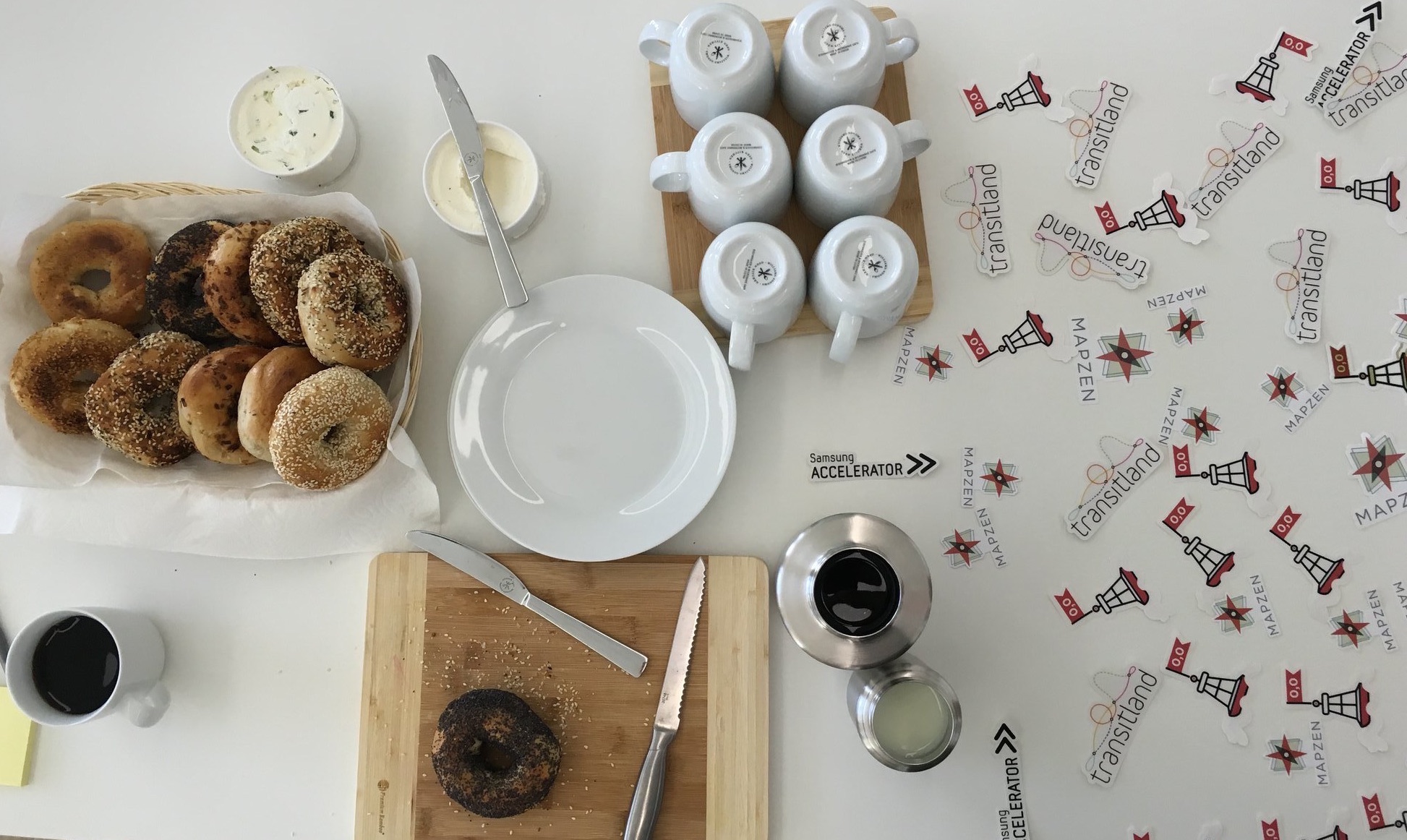 The next event is Wednesday, September 21, 2016 from 9 to 11 A.M. If you sign up in advance, it helps us make sure we have the right staff available for your questions: http://goo.gl/forms/UdgrT7uLCocrSyNC2